Traffic, safety and security are the most significant parts of every airport in the world. According to obligatory rules every single airport (including the smallest ones) must be fenced, Prague Letňany airport makes no exception and it is also monitored 24h by CCTV.
[box_pravy]
International airports in Czech Republic are considered as a states external border for flights of which the place of departure, transit landing and arrival is not on soil of contractor state.

[/box_pravy]
Due to high traffic are airport visitations only per prior request for visitors who are not participating in the airport traffic actions. Due to legal regulations each person at Prague Letňany airport has to visibly wear a valid ID card issued by an airport operator (flight crews and passengers are objects of an exception from this rule, their identification is provided by other means).
Prague Letňany airport is public domestic/ international private airport and that makes it subject to National security program.
It is prohibited to fly kites, parachutes, RC planes or any other such devices in airport surroundings.
We ask you to follow the symbols on warning signs that are placed on fence of the airport. All of these sings are placed on fence for safety and security of the traffic and airport itself.
We understand people from our neighborhood that it is tempting to fly kites, small parachutes but without noticing Prague Letňany airport representatives, all these actions are considered as safety threatening for the traffic and you could be endangering your life as well.
Before flying, please call us on: +420 286 581 340 (Letňany dispatcher) and we will advise you, where is it safe to fly these kites, parachutes etc.
Warning signs that can be seen at Prague Letňany Airport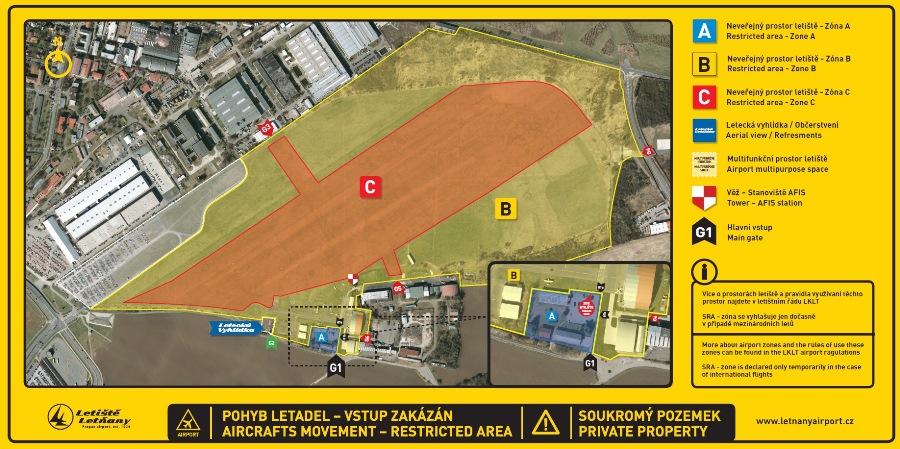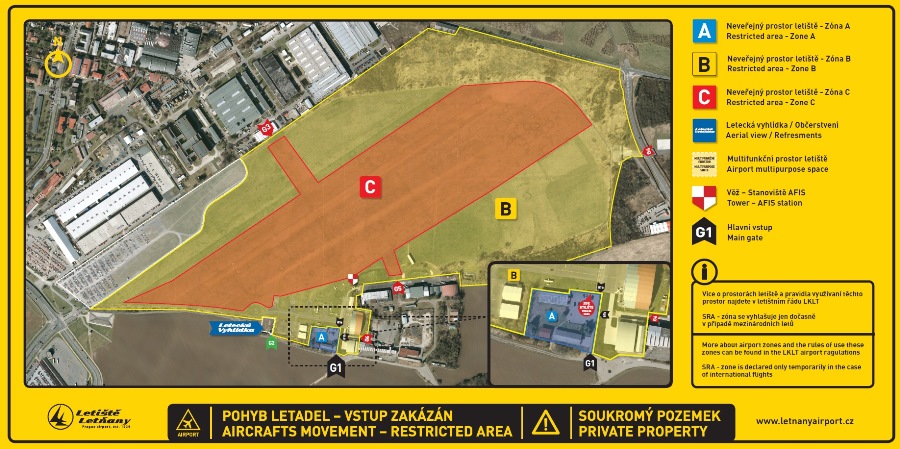 General guidance on compliance with safety rules
Following Notice 410/2006 Sb., Ministry of Transportation, CR, it is prohibited to enter the private space – category B and C with dangerous items, weapons, animals, it is also prohibited to manipulate with fire, prohibited to smoke (except for designated areas in space- category B), and prohibited to enter for persons under the influence of alcohol or narcotic substances. Entry to space – category B and C is also prohibited to motorbikes, four-wheel bikes, and other such single-track vehicles, including bikes, free skating on roller skates, scooters, skateboards, segways, and other such vehicles, in the winter time, it is prohibited to ski or sled in this space. All qualified personnel and other persons moving in this space are reliable to adhere keeping the security instructions.
It is prohibited to take pictures or film audiovisual records without the prior approval by the aerodrome operator. The exception is granted to LKLT tenants, who can take pictures and film for their personal use.
All ID owners are prohibited to let enter any other person/s without a valid ID into the space – category B and C, even if such persons are befriended, except for persons as per paragraph 2.1.
All LKLT aerodrome users are required to enter space- category B via G1A gate, using the ID card – see Attachment 1 Map of the airport and the surroundings. It is prohibited to use the vehicle entry gate.
Intentional damage or unqualified manipulation with security system at the LKLT will be fined – see Article 10.
All spaces – A, B, and C are under 24-hr security camera system.
It is prohibited to fly kites, parachutes, RC planes or any other such devices within the 500 m vicinity from the warning sign.
All aviation activities' operators and LKLT employees are required to adhere to all published security regulations as per the LKLT Aerodrome order. All operators and LKLT employees are personally responsible for adhering to these security regulations.
Main gate G1 closes at 23.00 local time. After this time, entry only with the aerodrome operator approval.
Violation of "Regulations for personnel and vehicles movement in the LKLT aerodrome" will be fined at 10,000 CZK by the Letiste Praha Letnany operator.